Over the years, I've accumulated quite a number of motorcycle memorabilia T-shirts. Mostly souvenirs from MotoGP and Superbike races — every race I go to, a new moto T-shirt is added to the wardrobe.  I didn't give this collection a second thought, until one day a colleague of mine asked "Just how many motorbike T-shirts do you have?".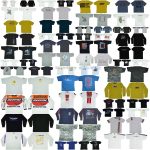 And so, my T-shirt census and documentation project began.
At the time the question was first asked there were more than 40. Some have sadly passed on, having become little more than a collection of holes in the shape of a T-shirt — but not before being photographed.
I don't know what the number of currently serving T-shirts is, but I give you this delightful movie and gallery of each and every one, past and present. In chronological-ish order.
Just a couple of weeks ago, I enjoyed my 20th consecutive attendance at the Australian MotoGP, Phillip Island — which seems like a good reason to finally publish this post.
Favourites? You just can't beat the 1994 Superbikes shirt, 100% printed material, no plastic iron-on rubbish on this beauty!  And the 58 Simoncelli shirt is definitely special too.
Thanks, Bickham, for the inspiration!